Google came first among the top companies regarding benefits and compensation, according to Glassdoor's new ranking. Costco came second, followed by Facebook, Adobe, and then the health care software company Epic.
In this article, compensation refers to money and other benefits paid to employees in return for their work.
Glassdoor, which was launched in 2008 by Tim Besse, Rich Barton and Robert Hohman, is a US job and career site where workers anonymously comment on the pros and cons of their employers and bosses. From April 2013 to April 2014, over 500,000 company reviews were registered in the website.
Google best rated
Ninety-one percent of Google employees say they would recommend their employer to a friend. After 2,171 reviews, the company scored 4.4 points out of a maximum of 5. Culture and values scored highest, followed by work/life balance, and then senior management, company benefits, and career opportunities.
Below are two reviews from Google employees who wrote on Glassdoor's website:
"Great work-life balance with adequate opportunity for career development."
"Free food, amazing people, amazing vision – almost everything about this company is a pro."
Although positive feedbacks greatly outnumbered the negative ones, there were negative comments, like the one below:
"After a while, you get too much pigeon-holed in to a specific role; Only x% of the people still do get to work on awesome open source stuff – everyone else works on a gaint, pretty much closed ecosystem, platform and tech stack wise. Also, the company is getting too big, a little outside of everyone's comfort zone; almost 0% work-life balance."
Sample population hi-tech slant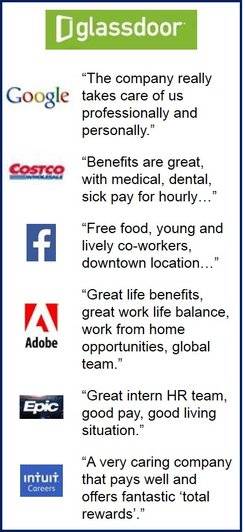 Glassdoor admits that its 23 million members should not be seen as an accurate sample population of the United States.
The majority of its content is related to the hi-tech and business/finance sectors. ExxonMobil, the world's largest publicly traded international oil and gas company, was not listed in the ranking because not enough employees wrote comments.
One of the drawbacks with relying on data that people voluntarily place, as is the case with TripAdvisor, Yelp and Ratemyprofessors, is that the only ones motivated enough to place anything tend to be those who have strong feelings, i.e. lovers or haters, the silent majority is not represented enough.
Below is Glassdoor's list of the 25 top companies regarding benefits and compensation:
Google.
Costco.
Facebook.
Adobe.
Epic Systems.
Intuit.
USAA.
Chevron.
Salesforce.com.
Monsanto Company.
Genentech.
Kaiser Permanente.
Qualcomm.
Riverbed Technology.
Verizon.
VMWare.
T-Mobile.
Microsoft.
Amgen.
Pfizer.
Southern California Edison.
Orbitz Worldwide.
Procter & Gamble.
Union Pacific.
eBay.
Top companies regarding benefits and pay