Economic growth in 2014 was described as 'robust' by the Bank of England in its 'Inflation Report' released on Wednesday 13 May, although it moderated in the second half of the year. In spite of weakness in the first quarter of this year, the outlook for growth 'remains solid'.
The fall in food, energy and imported goods prices have helped boost household real incomes.
The Bank of England (BoE) says the absorption of remaining slack and a pickup in productivity growth are expected to drive wage growth in the months to come. Together with the low cost of finance, that will help fuel domestic demand growth.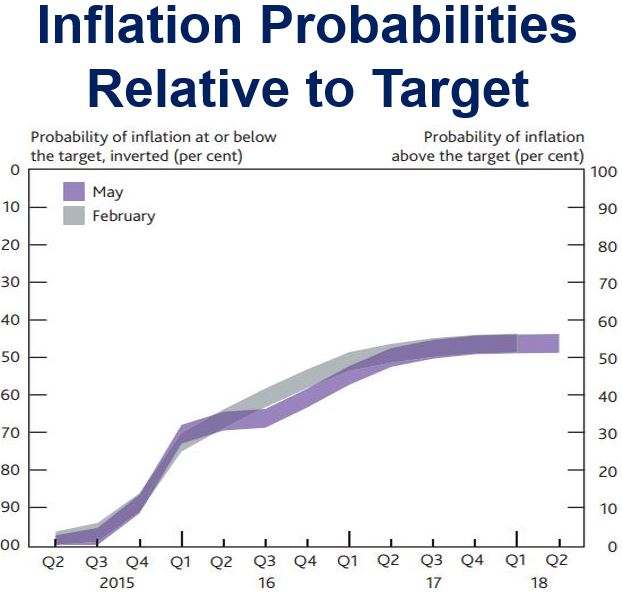 Source: Inflation Report, May 2015, Bank of England.
Economic activity in the US and some emerging markets have slowed, however, momentum in the Eurozone appears to have strengthened over the past quarter as a whole.
Consumer Price Index (CPI) inflation came in at 0.0% in March 2015, as declines in the prices of energy, food and other imported products continued to bear down on the annual rate.
The BoE forecasts that inflation will rise notably at the end of this year as those factors start to drop out.
Inflation is then expected to increase further as wage and unit labour cost growth gather pace and the effect of sterling's rise dissipates.
The Monetary Policy Committee (MPC) "judges that it is currently appropriate to set policy so that it is likely inflation will return to the 2% target within two years," the BoE said. "Conditional on Bank rate following the path currently implied by market yields – such that it rises gradually over the forecast period – that is judged likely to be achieved," it added.
UK Housing market activity has been broadly stable over the past few months. (Source: Bank of England)
Eurozone and other external factors
The ECB's (European Central Bank's) public sector asset purchase programme, which started in March, has helped push up euro asset prices, and lower yields on the majority of Eurozone government bonds (bonds are government IOUs – people buy them).
The programme also appears to have had a dampening effect on yields in other advanced economies, the BoE added. In this context, 'yield' refers to income as a percentage of the investment price.
The wide difference in economic prospects of various nations, and monetary policy stances, have triggered considerable movements in exchange rates. Since November 2014, the US dollar has risen while the euro has depreciated sharply.
"In effective terms, sterling is around 2% higher than in February and 16% higher than its trough in March 2013. Sterling Brent crude oil prices have risen, but remain 40% below their mid-2014 peak," the British Central bank wrote.
Driven by lower oil prices and policy measures, the expansion in global activity is likely to continue, the BoE predicts, although the news since February has been 'mixed'.
In the first quarter, Eurozone GDP growth appears to have strengthened further. "A combination of lower borrowing rates, improved household real incomes and a lower euro mean the outlook at least in the near term, is brighter than in February."
The BoE warns, however, that weak productivity and wage growth, plus a stronger dollar may imply a more persistent slowing in economic activity. GDP growth appears to have been weaker in several emerging markets, including China.
GDP (gross domestic product) is arguably the most important economic measure of the state of a country's economy.
The UK Economy
The UK economy expanded at slightly above its historical average in 2014, and somewhat faster than estimated potential supply, although it slowed down during the course of the year. That slowing reflected both weaker domestic demand growth and net trade.
According to preliminary GDP estimates, the economy slowed further in the first quarter of this year. Housing market activity remains subdued. "Nevertheless, surveys of household and business confidence and other indicators of consumption and business investment suggest activity has been more robust than reported in official data," the BoE concluded.
Citation: "Inflation Report," Bank of England. May 2015. (Complete Book)