Symantec Corp. announced today that it has entered into a definitive acquisition agreement with Lifelock Inc. The transaction will be worth $24 per share or $2.3 billion in total. The boards of directors of both companies approved the deal, which is expected to close during the first three months of 2017. Lifelock's shareholders still need to approve the transaction. There is nothing to indicate that they might vote against it.
Symantec Corporation, based in Mountain View, California, is the world's leading cyber security company. Lifelock Inc., based in Tempe, Arizona, specializes in proactive identify theft protection. Symantec and Lifelock have 11,000 and 788 employees respectively.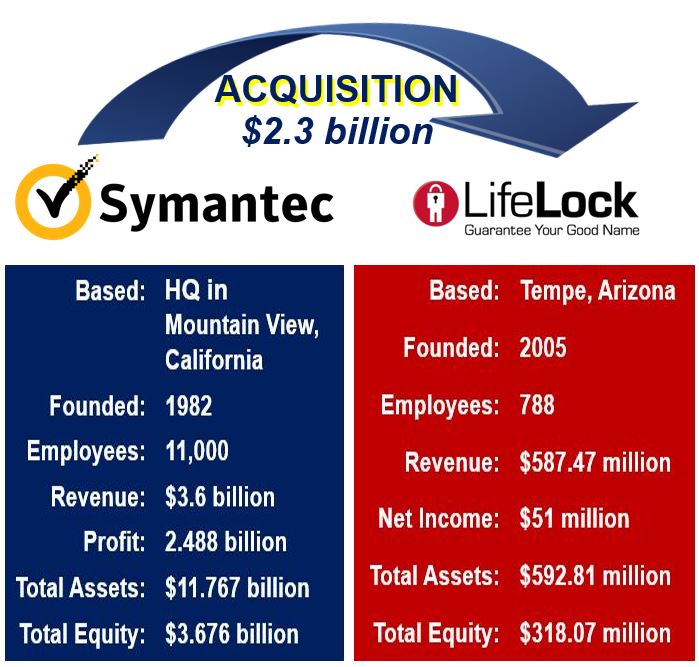 Symantec says the acquisition secures its position as the world's largest cybersecurity company.
Cybercrime a massive market for Symantec
One third of US citizens and more than 650 million individuals across the world were victims of cybercrime in 2015. Digital safety has become a major concern for consumers. The market is estimated to be worth at least $10 billion, and is growing rapidly.
According to Symantec, just in the United States, the addressable market consists of about 80 million consumers.
Greg Clark, Symantec's Chief Executive Officer, said:
"As we all know, consumer cybercrime has reached crisis levels. LifeLock is a leading provider of identity and fraud protection services, with over 4.4 million highly-satisfied members and growing."
"With the combination of Norton and LifeLock, we will be able to deliver comprehensive cyber defense for consumers. This acquisition marks the transformation of the consumer security industry from malware protection to the broader category of Digital Safety for consumers."
World's biggest consumer security firm
This latest acquisition will create the largest consumer security company in the world, with more than $2.3 billion in annual revenue.
Chairman of Symantec's Board, Dan Schulman, said:
"People's identity and data are prime targets of cybercrime. The security industry must step up and defend through innovation and vigilance."
"With the acquisition of LifeLock, Symantec adds a new dimension to its protection capabilities to address the expanding needs of the consumer marketplace."
Hilary Schneider, Chief Executive Office of LifeLock, said:
"After a thorough review of a broad range of alternatives, our board of directors unanimously concluded that Symantec is the ideal strategic partner for LifeLock and offers our shareholders a significant premium for their investment, at closing."
"Together with Symantec we can deploy enhanced technology and analytics to provide our customers with unparalleled information and identity protection services. We are very pleased to have reached an outcome that serves the best interests of all LifeLock stakeholders."
The company says this acquisition will give its customers a broader digital safety solution, plus greater revenue through higher ASPs (active server pages) and better retention rates.
The deal will be financed with cash on the balance sheet plus $750 million of new debt. The company's board of directors has also increased Symantec's share repurchase authorization to $1.3 billion from about $800 million, with up to $500 million in repurchases planned by the end of fiscal year 2017.
Symantec says it does not expect the transaction will have an impact on its quarter ending December 30th, 2016.
Symantec conference call
Symantec management will discuss transaction details on a conference call on Monday, November 21st at 5:30 AM PT/8:30 AM ET. You may access this conference call at www.symantec.com/invest. To listen to the live call, you will have to go to the web page at least fifteen minutes early to register online, download and install any required audio software.
Call (877) 475-6198 within the US or (970) 297-2372 from abroad for telephone access to the conference. Call fifteen minutes early.
Video – Symantec: 2016 Internet Security Threat
This Symantec video provides an overview and analysis of 2015 in global threat activity. Last year, the company discovered over 430 million new unique pieces of malware – 36% more than in 2014. Malware, a portmanteau of malicious and software, refers to software that has been deliberately designed to cause harm.