Tech giant Facebook is still a global leader, in spite of its late July share value slump. The sharp decline in its share price wiped off $120 billion from the company's value. The social media network giant holds a virtually unshakable position as a leader in the tech industry league table.
The tech giant experienced a share price slump after publishing its Q2 results for 2018. Although the figures were still positive, they were below what investors and analysts had expected.
Tech giant – two announcements
The tech giant made two announcements which made some investors push the 'sell' button.
– First, it announced that Q2 had the slowest user growth in two years.
– Second, it warned that it had spent more than it had gained trying to track advertisers and improve privacy.
However, despite its woes, the tech giant is still up there alongside Microsoft, Google, Amazon, and Apple.
What drives market dominance?
According to Patrick Barwise, nine factors drive these companies' market dominance. They are also 'mutually reinforcing factors.'
Barwise is Emeritus Professor of Management and Marketing at London Business School. Prof. Barwise listed and described the nine factors in a July 2018 article 'Nine reasons why tech markets are winner-take-all.'
Regarding those nine factors, Prof. Barwise added:
"The first four factors are relatively obvious; the others perhaps less so, being based more on human behavior than on economics and technology."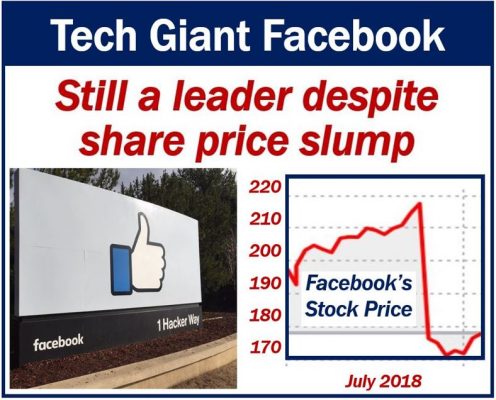 Tech giant Facebook's nine factors
The nine factors listed below are behind Facebook's and also the other tech leader's dominance.
– Traditional economies of scale, scope, and learning.
– Direct network effects (within market).
– Platform economics, i.e., indirect (cross-market) network effects.
– The combination of big data and machine learning.
– Valuable brands and habitual usage.
– Tech giant Facebook and its rivals deploy several strategies to lock in users by making it hard to for them switch to another company. They may also make it costly to switch to a rival.
– They are talent magnets.
– Powerful, capable, hard-driving founders. Mark Zuckerberg, Steve Jobs, and Jeff Bezos, for example, are hard-working, powerful, hands-on founders.
– The 'cluster economics' of Silicon Valley. Geography matters a lot, especially for innovation. Tech giant Facebook is located in Silicon Valley, as are Apple, Alphabet (Google), and Cisco. Intel and Oracle are also in Silicon Valley.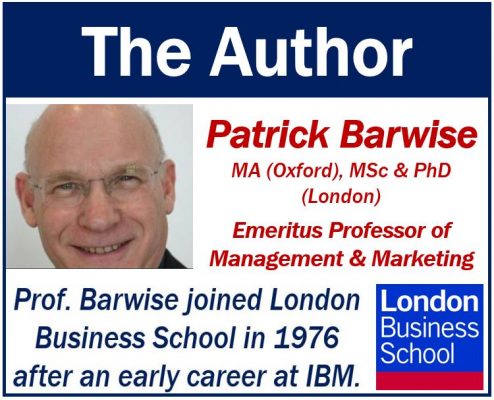 Creative destruction won't change things
A typical tech giant today that has established itself as a market leader is virtually impossible to displace. These mutually-reinforcing factors make it extremely difficult for other players to reach the top five or ten.
Prof. Barwise does not believe that creative destruction will change the appearance of the tech giant league tables. These winner-take-all factors are just too powerful.
In a winner-takes-all market, the top players receive a disproportionate share of the rewards that are available.
Regarding creative destruction in this case, Prof. Barwise said:
"Will 'creative destruction' – capitalism's ability to innovate, destroy and reinvent itself – eventually take care of the tech giants' market dominance? This seems unlikely because the combination of winner-take-all factors is so powerful."
"For example, a challenger to Google in search would have to offer an incentive or a noticeably better experience to attract users, over a period long enough to break their Googling habit."
"This would take years and cost tens of billions, with little chance of success. Microsoft's cumulative losses in search were estimated at $11 billion (£8.4 billion) in 2013."
Capitalism can only innovate, destroy, and reinvent itself when there is 'perfect competition.' In today's tech giant market, competition is imperfect.