Troubled supermarket giant Tesco plc announced it is set to close 43 unprofitable stores across Britain, many of which are local convenience shops, as well as its headquarters in Cheshunt. In 2016, its new head office will be in Welwyn Garden City.
The plan to open an additional forty-nine extra-large stores has been shelved.
Apart form closing its staff pension scheme and reducing overheads (all ongoing business expenses) by 30%, the company says it will make cuts of £250 million. It also plans to dispose of Tesco Broadband and Blinkbox to TalkTalk.
There will be no final dividend for 2014/2015. After Tesco shares declined in value by about 45% in 2014, relations with shareholders are already strained. The no-dividend announcement is bound to irritate investors further. In October 2014, billionaire Warren Buffett said that investing in Tesco plc was a "huge mistake".
The world's second-largest retailer, after Wal-Mart, has been experiencing a serious loss of market share, falling sales, and is also in the middle of accounting investigations by a number of UK authorities, including the Financial Resporting Council.
Christmas better-than-expected
Despite 2014 being a terrible year for the company, it had a much better-than-expected Christmas, with sales up 0.1% including fuel and down just -0.3% excluding fuel sales.
For the three-month period to January 3rd, comparable sales fell by -2.9%, versus a -5.4% decline in the previous quarter.
In the six-week Christmas period, grocery home shopping was 12.9% up, general merchandise online increased by 22.2%, while clothing online posted a 52.4% rise.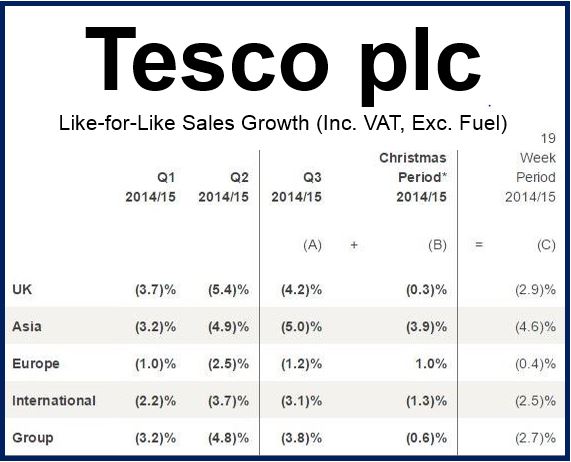 Source: "Trading Statement for 19 weeks ended 3 January 2015," Tesco plc.
Tesco's Chief Executive Dave Lewis said:
"We are seeing the benefits of listening to our customers. The investments we are making in service, availability and selectively in price are already resulting in a better shopping experience. A broad-based improvement has built gradually through the third quarter, leading to a strong Christmas trading performance."
"We have some very difficult changes to make. I am very conscious that the consequences of these changes are significant for all stakeholders in our business but we are facing the reality of the situation. Our recent performance gives us confidence that when we pull together and put the customer first we can deliver the right results."
Tesco dominated the market for decades
After more than twenty years of non-stop growth in which the retailer dominated the UK market, Tesco lost direction when it became involved in a costly overseas expansion program and failed to identify the threat from German discounters Aldi and Lidl.
It was also initially unprepared for the boom in online shopping and convenience stores which took shoppers away from its out-of-town megastores.
Analysts were surprised when Mr. Lewis said many of the outlets he planned to close down were convenience stores, because according to other supermarkets, that segment has been doing well. If megastores are floundering and many convenience stores are unprofitable, investors are probably wondering where the good parts of the company are.
It will be some time before we see the positive results of these measures, and Tesco returns to growth. However, the company has not altered its £1.4 billion profit forecast for the year.