British global travel company Thomas Cook informed "indirect" suppliers at the end of September that its payment terms would be lengthened from sixty to ninety days. Indirect suppliers include, for example, stationery and IT providers.
The Peterborough-based firm said that its decision, which had been made months beforehand, was aimed at streamlining its accounting system by placing all suppliers on the same payment terms.
Suppliers were also sent a strict set of requirements for completing invoices. If they were not done exactly as stipulated, they would be rejected, the company stressed.
This surprise development came to light after the company warned earlier this week that growth would occur at a slower pace, due to less favorable trading conditions.
Harriet Green, Thomas Cook's CEO for two years, shocked investors on November 26th when she announced her resignation, saying her work in the firm was complete. The announcement was followed by a steep decline in the company's share price.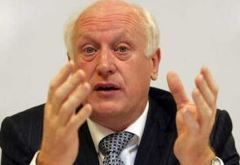 If Ms. Greens' departure was of Mr. Meysman's making and the company goes downhill again, one wonders what investors will make of him.
Few people believed Ms. Green's reason for stepping down. Earlier in 2014 she was talking about her plans within the company for the next six years. In a Management Today conference last week she had emphasized that her work in turning around the company was "far from complete."
Thomas Cook's chief operating officer, Peter Franhauser, took over as CEO with immediate effect.
When Ms. Green, seen as a miracle-worker by investors, joined the company two years ago, its share price was 14p. Two years later it had risen to 139.9p. Its stock value during her tenure increased from just £148 million to nearly £2 billion.
Did the chairman push her out?
Roger Blitz wrote in the Financial Times that Ms. Green's sudden departure had a lot to do with her relationship with chairman Frank Meysman.
On Sunday Mr. Meysman hosted a dinner for non-executive directors in which a CEO succession plan was discussed. The idea being for Mr. Frankhauser to take over. Ms. Green was not present.
Ms. Green was named Veuve Clicquot's businesswoman of the year, 2014.
At a board meeting on Monday the subject was brought up again and it was "unanimously" decided that Ms. Green would leave immediately.
Mr. Meysman insists he had a good relationship with Ms. Green when she was CEO. However, several current and former Thomas Cook employees and executives say otherwise.