UK public sector borrowing requirement, excluding state-owned banks, fell 2.4% in October to £7.706 billion, a £0.2 billion decrease compared to October 2013, offering Chancellor George Osborne new hope that the budget may recover more rapidly ahead of the general elections in 2015.
Economists had predicted that the public sector borrowing requirement for October would be £7.9 billion.
In March's Budget speech, Mr. Osborne said his target was to reduce the budget deficit by at least 10% by March 2015. While October's figures were better than September's, his options for offering sweeteners to the electorate before the general elections next year are very limited.
For the Apr-Oct period, the UK's public sector borrowing requirement (excl. banks) was £64.1 billion, which was 6.1% greater than during the same period last year. However, borrowing for the Apr-Sept 2014 period was 10.3% higher than in Apr-Sept 2013.
Tax revenue has remained stubbornly low, despite the economy growing faster than anywhere else in Europe.
Wage growth has failed to keep up with inflation for the last four years, so income tax revenue has remained low. A large number of British workers still earn less than the tax-free threshold.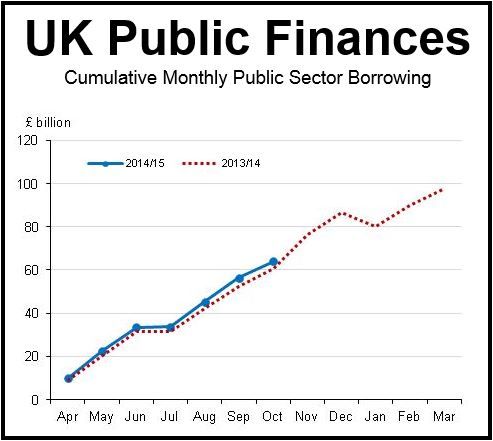 Source: Office for National Statistics.
The British economy has been growing by over 3% throughout the year, while revenue from national insurance contributions and income tax only increased by 0.6% in the Apr-Oct period. However, the annual increase in October edged up to 1.5%.
Elusive debt reduction plan
Mr. Osborne's plan to reduce the deficit this year looks increasingly unlikely as he prepares to deliver his Autumn Statement in December.
October, which is typically a good month for corporation tax revenue, showed no indication to change most economists' view that Mr. Osborne is way behind on his deficit-reducing plan.
If Mr. Osborne were serious about meeting his target, he would have to fill a £15 billion black hole in the remaining five months of the fiscal year. To do that he would have to reduce borrowing by 40%.
A spokesman for the UK Treasury said today:
"While today's public finance figures show borrowing is down this month compared to last year, the impact of the great recession is still being felt in our economy and the public finances."
"At the same time, we have to recognize that the UK is not immune to the problems being experienced in Europe and other parts of the world economy. That's why we will continue working through the plan that is building a resilient British economy."