Virgin Money flotation shares have been priced at the lower end 283p, thus giving the challenger bank a market capitalization of about £1.25 billion, the UK bank which is part-owned by billionaire Sir Richard Branson announced. Market capitalization is the value of all a company's outstanding shares.
Employees will get £1,000 worth of shares each when the company floats on Thursday, November 18th.
Conditional trading started at 8am GMT on Thursday, November 13, in London. During the first 30 minutes of trading this morning, its stock rose by 1%.
Gross proceedings from the offer are estimated to be about £312 million (assuming no exercise of the over-allotment option) and £344 million if the over-allotment option is exercised in full. About £150 million of the gross proceeds from the Offer will be received by Virgin Money.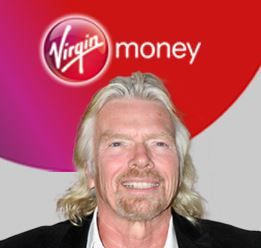 Sir Richard Branson will own just over one third of the floated company.
Virgin Money CEO, Jayne-Anne Gadhia, said:
"I am delighted to welcome all our new shareholders to Virgin Money. Our capability to deliver growth at meaningful scale, the quality of our balance sheet and the fact that we are unburdened by legacy issues makes us stand apart from other banks, and these strengths give us the potential to deliver on-going returns to our shareholders through both capital growth and progressive dividend payments."
"The completion of our IPO will see us make a final payment to the Government of £50 million as consideration for our acquisition of Northern Rock plc, taking the total paid to over £1 billion."
Virgin Money purchased the mortgage lending unit of the old Northern Rock bank, which the Bank of England rescued in 2007 at the beginning of the global financial crisis. It was nationalized in 2008 and then split into Northern Rock (Asset Management) and Northern Rock plc in 2010. Its bad debts were placed into the latter company (bad debts consist of money owed that clearly will never be paid back).
After the flotation, Sir Richard will own 34% of the business and Wilbur Ross will have a 33% stake. Mr. Ross, who has a net worth of $2.9 billion, is an American investor known for restructuring failed companies who specializes in leveraged buyouts and distressed businesses.
The company had initially planned to list in October. This was postponed due to weak market conditions. British bank Aldermore also postponed its listing for the same reason.
Last week, Virgin Money revived its flotation planned, and set a price range of between 183 and 333 pence.
In the world of banking, Virgin money is known as a Challenger Bank – a young financial institution that is biting at the heels of the major high street banks.