Walney Extension, off the UK coast, the largest operational wind farm in the world, opened last week. Walney Extension belongs to Ørsted, PKA, and PFA. It is the first wind farm to use wind turbines from two separate manufacturers.
Ørsted A/S is the largest energy company in Denmark. PFA is the largest commercial pension company in Denmark. PKA is one of Denmark's largest pension service providers for labor market pension funds.
Ørsted, PKA, and PFA own 50%, 25%, and 25% of the 659MW project respectively.
Walney Extension – 87 wind turbines
The eighty-seven wind turbines at Walney Extension can generate enough energy to power nearly 600,000 homes. Specifically, green energy. In other words, the energy comes from natural sources. Wind, solar, and biomass, for example, are types of green energy. Geothermal energy is also a type of green energy.
The offshore wind farm covers an area of 145km2 (60m2) in the Irish Sea. Walney Extension is Ørsted's eleventh operational wind farm in the United Kingdom.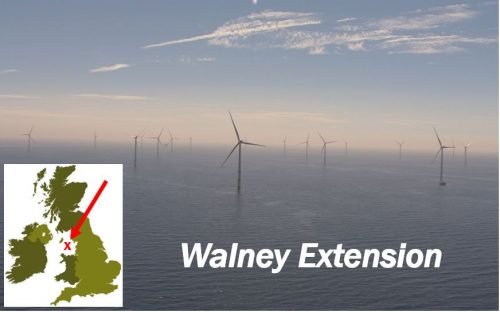 Two wind turbine makers
The mega wind farm utilizes state-of-the-art technology from two leading wind turbine manufacturers. It features 47 Siemens Gamesa 7MW and 40 MHI Vestas 8MW wind turbines.
Regarding the construction of the project, Ørsted writes:
"Construction of Walney Extension was coordinated from Ørsted's West Coast Hub, at the Port of Barrow, which will now become home to the project's operations and maintenance team."
"The West Coast Hub also services three further Ørsted offshore wind farms, i.e., Barrow, Walney and West of Duddon Sands."
After the completion of this project, Ørsted's total capacity operating out of Barrow now stands at 1.5GW.
The company's ongoing operations plus its maintenance activities will support over 250 direct jobs in the area.
UK leads the world in wind energy
Ørsted UK Managing Director, Matthew Wright, said:
"The UK is the global leader in offshore wind, and Walney Extension showcases the industry's incredible success story. The project, completed on time and within budget, also marks another important step towards Ørsted's vision of a world that runs entirely on green energy."
"The North-West region plays an important role in our UK offshore wind operations, and our aim is to make a lasting and positive impact here. We want to ensure that the local community becomes an integral part of the renewable energy revolution that's happening along its coastline."
Peter Damgaard Jensen, PKA's CEO, said:
"We're proud to participate in the opening of the world's largest offshore wind farm to date, and to supply over half a million UK homes with green power."
"Walney Extension is our sixth investment in wind farms since 2011 and is yet another important contribution to PKA's ambitious climate strategy in which we continuously work to create good returns to our members while at the same time making a positive difference for the climate."
Henrik Nøhr Poulsen, PKA's Executive Director who is responsible for Equities and Alternative Investments, said:
"At PFA, we're very happy to be a part of this great project, together with Ørsted and PKA, which is a milestone in the market of renewable energy and an important contribution towards the green transition. It's an historic event and the largest renewable investment ever made by PFA."
"The Walney Extension Offshore Wind Farm investment represents a considerable extension of our portfolio of alternative investments and fits perfectly into our strategic focus on providing our customers with reliable and stable long-term returns."
Wind energy is renewable energy
Renewable energy is energy whose source never runs out. In other words, we cannot use it up so that there is none left.
Solar, wind, geothermal, and biomass energy, for example, are types of renewable energy. Hydropower, which captures the energy from flowing water, is also renewable energy.
Solar energy captures energy from the Sun and converts it into electricity. Wind energy uses the movement of air, in other words, wind.
Geothermal energy uses the Earth's internal heat, while biomass uses the energy from plants and other organic material.
Plants, wind, the Sun, as well as Earth's internal heat are always available. Always available, that is, in a human timescale.
---
Video – Wind Energy
---