On Wednesday Sony launched its PlayStation Vue Web video service across three cities in the US.
The company is targeting consumers who want a cheaper alternative to cable.
The service allows users to watch live TV as well as on-demand video.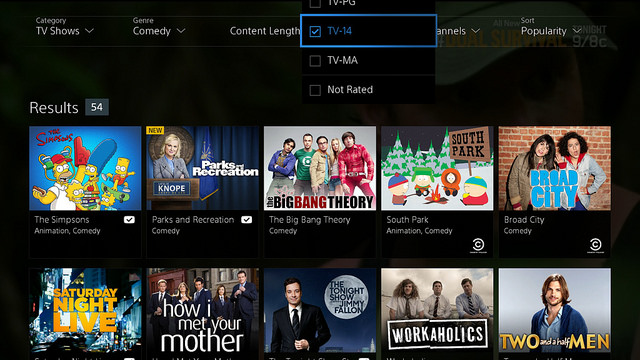 The Playstation Vue navigation screen. Source: PlayStation Blog
Sony describes it as a "a new cloud-based TV service bringing you live TV, movies and sports without a cable or satellite subscription.".
It has been in development for a while now and the tech giant believes that it is finally ready to be released into the market.
Prices start at $50, which some claim is a bit steep, but it offers one of the largest packages of channels, which is set to make it stand out in a booming online video service market.
The service is being rolled out on PlayStation 4 and PlayStation 3 video game consoles in New York, Chicago and Philadelphia.
Includes 85 channels with programming from major networks
It will become available to use on other devices and in other cities shortly.
Eric Lempel, VP at Sony Network Entertainment, said:
"We are working hard to deliver PlayStation Vue to more cities soon. We are also bringing PlayStation Vue to iPad in the near future."
The PlayStation Vue Web video service includes 85 channels, including programming from CBS, Fox and NBCUniversal, as well as media companies Discovery Communications , Scripps Networks Interactive, Turner Broadcasting and Viacom.
The Vue "modernizes the TV viewing experience"
Andrew House, President and Global CEO of Sony Computer Entertainment Inc. and Group Executive in charge of the Network Entertainment Business, said:
"The TV experience needs a revolution and PlayStation Vue changes the rules by embracing how today's viewers want to discover and enjoy content,"
Adding:
"PlayStation Vue modernizes the TV viewing experience, taking the best of live TV and on-demand content and bringing it to the PlayStation ecosystem in a way that gives control back to viewers and enables them to spend more time watching their favorite programs and less time channel surfing using outdated menus."
"Your favorite shows and channels will always be front and center whenever you start PlayStation Vue. When you are looking for something new and exciting to watch, powerful discovery tools will help you filter thousands of shows in just moments, so you can search less and watch more."
"The cloud based DVR lets you save your favorite shows with no programming conflicts and store recorded episodes for up to 28 days."
The PlayStation Vue Web video packages available
Packages now available include the following:
Access – costs $49.99 per month and includes broadcast networks like CBS, FOX, and NBC as well as more than 45 of the most popular channels such as Discovery Channel , FX, Fox News Channel, USA Network, Food Network, TNT, Nickelodeon and AMC (available next month).
Core – costs $59.99 per month and includes all the channels in the Access package, plus local regional sports networks such as YES Network in New York, Comcast SportsNet Chicago, and Comcast SportsNet Philadelphia, as well as additional sports and movie networks.
Elite – costs $69.99 per month and includes all the channels in the Access and Core packages as well as more than 25 lifestyle, music and family channels.