Two men were charged on Tuesday with insider trading on Herbalife shares. The Securities and Exchange Commission (SEC) said in a settled complaint that Filip Szymik of New York City agreed to pay a $47,100 civil penalty.
If a company employee or shareholder uses material non-public information for personal gain, such as trading in shares or passing that information to an 'outsider', he or she is breaking the law – it is known as 'insider trading'.
Jordan Peixoto, of Toronto, however, says he will dispute the charges.
According to the SEC, Szymik's roommate worked as an analyst (Analyst) at Pershing Square Management LP (Pershing), a hedge fund founded and run by Bill Ackman, a well-known activist.
Before December 19th, 2012, the 'Analyst' told Szymik about an upcoming public presentation (Presentation) on Herbalife by Pershing, which would make Herbalife look bad.
The Analyst told Szymik that the information he had given him regarding the impending Presentation was highly confidential and that he should not trade securities based on that information.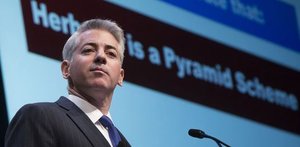 The Presentation – Bill Ackman said Herbalife was a pyramid scheme.
Szymik broke a secret
Szymik told Peixoto about the substance and date of the upcoming Presentation, thereby disclosing confidential information.
Both Szymik and Peixoto understood that the substance of the Presentation would have a damaging effect on Herbalife's stock price, the SEC wrote.
Peixoto bought a number of Herbalife put options on December 19th, 2012, before the Presentation took place. Later that day CNBC reported that Pershing would make a Presentation the next day that would put Herbalife in a bad light.
CNBC's announcement and the subsequent Presentation resulted in a 39% fall in Herbalife's share price by December 24th.
Peixoto's Herbalife's put options rose in value by $339,421 (as of December 21, 2012). Peixoto eventually made a $47,100 profit from Herbalife options that he had bought before the CNBC report.
California-based Herbalife is a multi-level marketing company that sells nutrition, weight management and skin-care products worldwide. Mr. Ackman accused the company in 2012 of running a pyramid scheme that would eventually collapse. Mr. Ackman's claim sparked a federal probe into Herbalife's activities.
The SEC wrote:
"By providing Peixoto material non-public information concerning the upcoming Pershing Presentation, in breach of his duty of trust or confidentiality to the Analyst, Szymik violated Section 10(b) of the Exchange Act Rule 10b-5 thereunder."
Senior associate director of the SEC's New York Regional Office, Sanjay Wadhwa, said:
"Szymik and Peixoto chose to engage in illicit tipping and trading in advance of the announcement of market-moving information and today they are being held accountable for those offenses."
This is the first time regulators are saying that a hedge fund's investment strategy itself can be confidential information.