Financial constraints are preventing many businesses from embracing automation. Thirty-four percent of businesses say that financial constraints prevent them from investing in automation, a new study has found. L.E.K. Consulting reported that automation's biggest barrier is lack of capital.
L.E.K. Consulting is a management consulting firm with one head office in London, UK, and another in Boston, USA.
Thirty-one percent of respondents in the survey said that the ROI is unattractive on incremental automation. In other words, the return on investment is poor if they adopt automation little by little.
Return on investment or ROI is a measure of how profitable an investment is. A low ROI means that an investment does not generate much profit.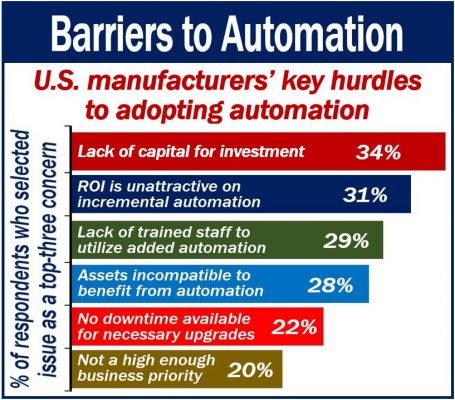 Financial constraints and lack of trained personnel
Apart from financial constraints, a lack of properly-trained employees is another barrier. Twenty-nine percent of respondents said they lacked employees with the right training.
L.E.K. wrote in its survey that manufacturers are keen to adopt new technology. However, there are still some major barriers between what companies would like and what they can do.
Even though new technology costs have declined significantly, financial constraints still represent a major obstacle for many businesses.
Worse for smaller businesses
Many smaller manufacturers, which logically have smaller budgets, simply do not have the money for automation.
Most larger organizations, on the other hand, are moving ahead rapidly. Subsequently, smaller companies' productivity and efficiency are falling further and further behind.
Skilled labor shortage
Manufacturers are investing in their current workforce, through skills upgrading and retraining. However, they continue to be concerned about a serious shortage of skilled workers for tomorrow's automated factory.
Regarding the lack of skilled labor, report authors wrote:
" In fact, beyond capital and financial limitations, a lack of skilled labor is one of the primary hurdles preventing manufacturers from implementing additional automation over the next five years."
Most manufacturers believe that their current skilled labor shortage is not a temporary situation. Over the next five years, they expect the problem will get worse.
Approximately eighty percent of US manufacturers are preparing for an increase in automation. Only eighteen percent of respondents said that they had minimal plans for automation in place.
Automation and artificial intelligence
Automation is a technique, method, or system of controlling or operating a process by highly automatic means.
The automotive industry, for example, has undergone extensive automation. Fifty years ago, Toyota car factories were very labor intensive. Today they are full of robots but very few employees.
Thanks to artificial intelligence, machines today can act and think like humans. This means that they can replace humans in the workplace.
---
Video – Artificial Intelligence
---