IAG SA, the owner of British Airways, Iberia and Vueling, raised its full year profit guidance on Friday after posting a 30% rise in 3rd quarter profit. Operating profit in Q3 increased to €900m compared to €690m last year.
The London-based, Madrid-registered company predicted full-year operating profit will be between €550 and €600 instead of its previous guidance rise of €500+. Last year's operating profit was €700 million, meaning this year's is expected to come in at between €1.25 billion and €1.3 billion.
Unlike flagship-carrier rivals Air France and Lufthansa, the Franco-British company's fortunes have improved significantly. Air France said the string of strikes and lower demand will reduce profit by about €500 million, while Lufthansa lowered next year's profit guidance.
IAG, which was formed in January 2011 when British Airways and Iberia merged, said its profit increase was due to tight cost control at both its Spanish and British units, helped by the addition of more fuel-efficient aircraft to their fleets.
During the past three months IAG shares have increased by 16%, while the French and German carriers' fell by 22% and 20% respectively.
IAG reiterated its 2015 operating profit guidance of €1.8 billion.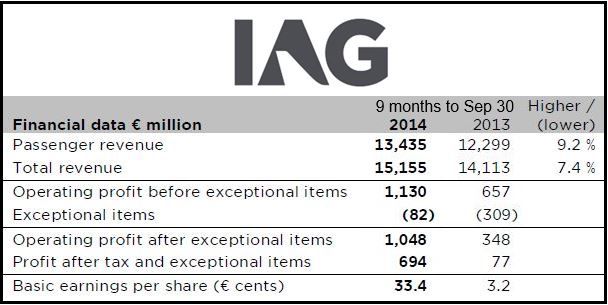 Source: International Consolidated Airlines Group (IAG)
Europe's third-largest airline expanded its British unit to take advantage of growing North Atlantic demand, while cutting jobs at Iberia.
Unlike its struggling European competitors, British Airways managed to address most of its short-haul problems last year, resulting in lower exposure to competition from EasyJet, Ryanair and other budget airlines.
IAG CEO Willie Walsh said:
"We continued to grow capacity efficiently and both our non-fuel and fuel unit cost perfomances were strong with the latter boosted by the introduction of new, more efficient aircraft into our fleet."
"British Airways made an operating profit of €607 million, compared to €477 million last year, and grew capacity while retaining its focus on cost control. Iberia's operating profit increased to €162 million from €74 million last year, highlighting its strong cost discipline combined with the continued benefits of restructuring. Vueling continued to grow, developing new bases in Italy and Belgium, with and operating profit of €140 million compared to €139 million last year."