A Manchester United Adidas deal worth £750 million ($1.3 billion) has been signed by the English Premier League giant and the German sportswear maker. Adidas' 10-year commitment is the biggest kit contract in the history of sport.
The amount is £40 million short of what the Glazer family paid for the whole club in 2005.
The largest agreement of this kind in the United States is $18 million-per year between Nike and the NFL, which started in 2012.
The announcement comes soon after US rival Nike said it would end its kit-deal with United at the end of the coming 2014-2015 season, commenting that a new contract "did not represent good value for Nike's shareholders." Adidas, which last supplied United's kits in 1992, also fought off US bidders Warrior and Under Armour.
The agreement with probably the most popular team in the world is a major coup for Adidas, securing its leading position in the football (soccer) market in which Nike has gained a major foothold since the beginning of the millennium.
Deal dwarfs all others
Adidas £75 million-per-year contract dwarfs both Nike's previous arrangement and anything among the other major European soccer clubs. Since 2003, Nike has been paying United £23.5 million each year, while Champions League title holder Real Madrid has a £27 million-a-year contract with Adidas.
Adidas will be the sole supplier of training and playing kit (sports uniforms) to all the club's teams. It will also have exclusive rights to market dual-branded merchandising products globally.
Despite having its worst season ever in the 2013-14 season and not qualifying for the Champion's league, United has no problems signing lucrative contracts. It also signed a $559 million seven-year shirt agreement with Chevrolet, the biggest shirt deal in the history of sport. With a healthy cash flow it will be able to turn an operating profit and sign up a good number of top players.
Impressive list of Adidas partners
United joins an impressive list of clubs that are currently Adidas football partners, including Chelsea, AC Milan, Flamengo, Real Madrid, Bayern Munich, and in the 2015/2016 season Juventus.
Adidas was also the outfitter the German (winner) and Argentinian (runner up) squads in the 2014 FIFA World Cup, as well as partner of FIFA's Golden Glove winner Manuel Neuer, Golden boot winner James Rodrigues, and Golden Ball winner Leo Messi.
Herbert Hainer, Adidas Group CEO, said:
"We are excited to team up with Manchester United, one of the most successful and most loved football clubs globally. Our new partnership with Manchester United clearly underlines our leadership in football and will help us to further strengthen our position in key markets around the world."
"At the same time, this collaboration marks a milestone for us when it comes to merchandising potential. We expect total sales to reach 1.5 billion GBP during the duration of our partnership."
The German sportswear company said it may look to United's 1980 and early 1990 kits for inspiration regarding what the design of the new strip might be like, but gave no further details.

United's new deal is nearly triple Real Madrid's.
New manager, new hope
Louis Van Gaal, who steered the Dutch national team into third place in the 2014 FIFA World Cup, replaces David Moyes as United's club manager. Moyes was fired in less than ten months into his tenure after taking over from Alex Fergusson, who had been at the helm from 1986 to 2013.
Mr. Van Gall will be with the United team for two days at its training complex before they all fly to Los Angeles on Friday.
Manchester United, one of the most recognizable footballing brands worldwide, in its 137+ year history has won 62 trophies, including a record 20 domestic titles and three European cups.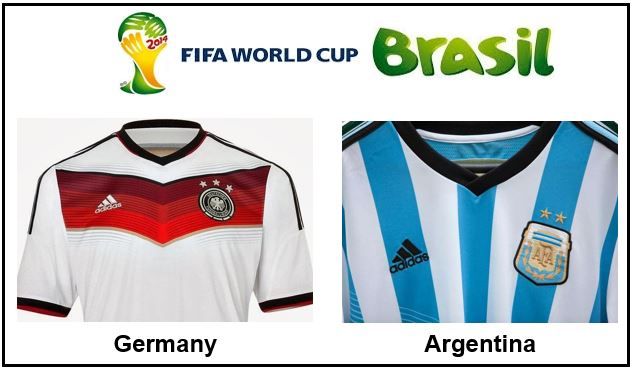 Adidas was the kit provider for the 2014 FIFA World Cup winner (Germany) and runner up (Argentina).
Is it a good deal for Adidas?
In an interview with the Manchester Evening News, private client director at Hume Capital, James, Igoe, said he was blown away by Adida's agreement, adding that it was a fantastic deal for United.
Mr. Igoe said he was amazed that Adidas have signed up for so much money. While acknowledging that United is a global club, during this season there is not much penetration commercially because there will be no Champions League for the club.
"On top of that there's also no guarantee that there will be Champions League football the season after this one when the Adidas kit deal kicks in. For United it is visible revenue going on to the balance sheet. Through no Champions League the club is missing out on approximately £30m this season. But they are bridging that gap right away," Mr. Igoe added.
Nike also ended a twenty-year deal with rivals Arsenal, who signed a new kit-supplier agreement with the German sportswear manufacturer Puma.